Tangle-Free charging Cable for you!

-Retractable iOS Port + 
-Micro USB Standard Port +
-Type C

New style charging port. Easy to switch

Cabo de carregamento sem emaranhados para você!
- Porta iOS retrátil +
- Porta padrão Micro USB +
-Tipo C
Novo estilo de porta de carregamento. Fácil de trocar
Retractable 3 in 1 Cable is very easy to fold
and place in your handbag, laptop bag, pocket etc.
O cabo retrátil 3 em 1 é muito fácil de dobrar
e coloque em sua bolsa, bolsa de laptop, bolso etc.
Attach directly to any power outlet with any
USB port or adapter for electric to USB to charge, or
directly to your computer to sync. 
Conecte diretamente a qualquer tomada elétrica com qualquer
Porta USB ou adaptador para ca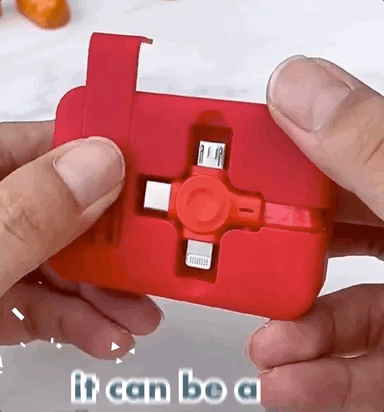 ultimate convenience to carry with you at all




times in your purse, laptop bag or even your pocket.

rregamento elétrico para USB, ou
diretamente para o seu computador para sincronizar.